In honor of Mother's Day, we are featuring some famous historical women who kick butt by day and change diapers by night. Of course, all Mamas are superheroes in their own right, so give yourself a pat on the back before we go on. (Go ahead. We'll wait!)
OK, now let's get down to business. Here are some fine ladies throughout history who serve as an inspiration to women and Mamas everywhere!
1) Nancy Matthews Elliott, Mother of Seven (including Thomas Edison)
Thomas Alva Edison, the fourth most prolific inventor in history, was the youngest and seventh child of Nancy Matthews Elliott and Samuel Ogden Edison. 

Young Thomas had a short attention span in his childhood, which made traditional schooling difficult for him. His teachers lost hope in him, calling him "addled," an 18th-century term for being a "rotten egg." Ouch! Taking matters into her own hands, his mother Nancy used the little formal education she had to home school her son. Later the magnificent inventor credited his success to his mother:
 "My mother was the making of me. She was so true, so sure of me; and I felt I had something to live for, someone I must not disappoint."
Thanks to Nancy's faith in her son, we were introduced to the motion picture camera, the light bulb and the phonograph.
2) Michelle Obama, Mother of Two
 
We love everything about our nation's current First Lady. She is our modern day Jackie O, with her sophisticated sense of style and aura of class. But beyond her status as a fashion icon, we all know that behind every great man is an even greater woman -- and we get a sense that the FLOTUS carries her own.
The mother of two and Princeton graduate has quickly become one of our country's role models, with her strong stance on causes such as poverty awareness, nutrition, and healthy eating. Most notably, she began the "Let's Move!" movement to combat childhood obesity and planted the first White House vegetable garden since Eleanor Roosevelt was First Lady. With all this, she still manages to keep those perfectly toned arms -- we're jealous!
3) Jacqueline Kennedy Onassis, Mother of Four
We can't give props to Mrs. Obama without mentioning Mrs. Onassis. Today we remember her as the picturesque beauty beside her husband John F. Kennedy; however, there is much more to this enigmatic figure. Pregnancy is tough enough as a regular lay person, but Jackie had to endure her first pregnancy with son John Jr. as her husband campaigned for presidency. She gave birth a mere two weeks after JFK became the president.
As First Lady, Jackie organized entertainment for White House social events, restored the presidential home and childproofed the estate for her children. She made sure her kids had regular access to their father and even organized a first-grade class in the White House. Finally, in perhaps her most harrowing feat, she led her family (and the rest of the country) in mourning after JFK's assassination. Jackie is to have once said:
"If you bungle raising your children, I don't think whatever else you do well matters very much."
4) Marie Curie, Mother of Three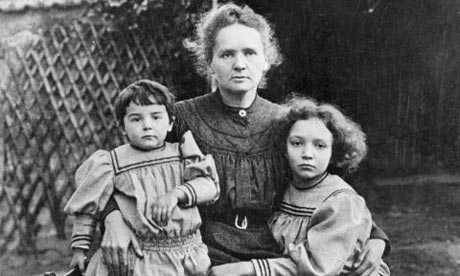 In the male-dominated science field, Marie Curie stands out for being an accomplished physicist/chemist woman. She is the first person to be honored with two Nobel Prizes and is only one of two to win in multiple science fields. She is known as the "Mother of Radioactivity" for her research in the field; however, she also mothered three children -- one of whom would receive a Nobel Prize of her own. Now those are some smarty-pants genes!
5) Josephine Baker, Mother of 12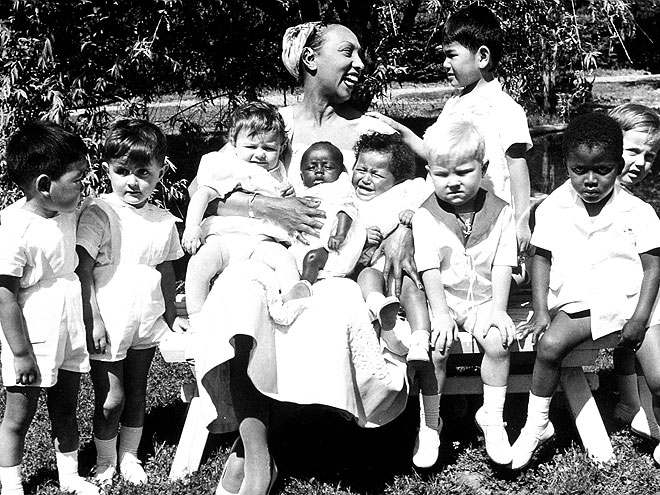 The beautiful and glamorous Josephine Baker was known as "the Bronze Venus" and "The Black Pearl" in the early 20th century for her dancing, singing and acting. The French entertainer was the first African American female to star in a major motion picture and is known for her contributions to the Civil Rights Movement and the French Resistance during World War II. (Yeah, that's right. The woman is a war hero!)

But all of this wasn't enough for the starlet turned activist. She adopted 12 children from different ethnicities, and called her crew the "Rainbow Tribe." Her tribe consisted of ten sons and two daughters, who came from different cultures including Japanese, Moroccan and Venezuelan. Baker's own mother was adopted. At her funeral, Baker became the first American woman to receive full French military honors and a full parade through the streets of Paris.