Our Northern hemisphere once again is tilting towards the Sun. And that means one thing for us mortals: SUMMER TIME! Whether you're headed to the beach, the Bahamas (lucky you) or just strollin' through the park, we've got the must-haves to keep you cool, stylin' and feeling like a spoiled mama.
Swimwear for Expectant & Postpartum Moms:
Unless you're Heidi Klum, you probably have some reservations about baring it all at the beach. But just because you're an expectant or postpartum mama doesn't mean you have to hobble down the beach in your hubby's old t-shirt -- you can still be fabulous! These lovely bathing suits below prove that you don't need to go skimpy to look sexy. Cute maternity swimwear (less than $40):
 We love the deep burgundy color of this one-piece stunner. The playful crochet plays with the eyes and flatters your growing curves. With such a fun knitting, you can keep accessories to a minimum.
Rosewater Shake Fuller Bust Nursing Flexi Wire Tankini: We love this option for postpartum mamas because it's playful tiered layers draw attention away from the midsection and lengthen your torso. Meanwhile, it's not only maternity AND nursing friendly, has adjustable straps, and two color options. What more could you want? 
Swollen Legs & Feet: 
Swollen feet/ankles + sweltering summer heat can render an expectant mama immobile. UNLESS... The Spoiled Mama's Aloe Leg Gel:
 Swollen legs, cankles and feet don't stand a chance with our Spoiled Mama's Massaging Aloe Leg Gel for pregnant and postpartum moms. The all natural and organic concoction is made with soothing aloe and infused with cooling peppermint and spearmint oils. Keep a bottle in the fridge for a delightful chilly treat. 
Foot care and footwear: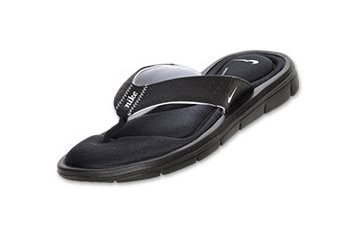 There is a small cult following of women around these sandals, all of whom claim that it is the most comfortable pair of thongs on the market. Heavily cushioned with a soft gel and sturdy soles, they make the perfect walking companion for warm climates. Some reviewers swear the shoe can help with lower back pain, too!  Nike's Comfort Women's Thong ($32 from Nike.com)
A Fun Hat:
Whether you like whimsical floppy hats or classic fedoras, wearing a bit of headgear is no longer something to be embarrassed about. Aside from being fashionable, your hat should protect your pretty face from the sun's harsh rays. While sun protection is always important, it is especially crucial for expectant and new moms who are concerned with
melasma
, or "the mask of pregnancy." The skin discoloration appears on sun-exposed areas of the face, so be sure to slather on SPF, The Spoiled Mama's
Lucid Brightening Face Serum
and keep your face covered whenever possible.