'Happy Mornings' Morning Sickness Tea
Welcome to your first trimester: when you haven't had a drop of alcohol, but wake up every morning with a hangover! We have the answer -you need the perfect tea for morning sickness. One of our mama's favorite morning sickness remedies!

If pregnancy nausea is putting a downer on your day, reach for a cup of our best tea for morning sickness, Happy Mornings Tea. With a unique blend of organic herbs, this tea uses ginger, red raspberry leaf and spearmint to help settle the stomach, refresh and revive you for the day.

Unlike manufactured tea bags, our loose leaf morning sickness tea contains whole herbs that preserve the medicinal properties of each plant. This way, every sip ensures relief is delivered swiftly!

Size: Net Wt. 2 oz/56 gr

Helps curtail morning sickness with 100% organic herbs

Made with whole herbs (loose leaves) for maximum health benefits
Herbs in all our pregnancy teas are selected from the finest harvests of each year, and every batch is sifted by hand for quality

Delicious hot or chilled

Safe for:

Pregnancy

Add a teaspoon of tea to every cup of hot or boiling water. Allow to steep for 1-2 minutes or depending on how light or strong you like your tea. Sip your way to a merrier day!

Tips:

Our morning sickness tea is delicious whether hot or chilled!
Use with tea strainer spoon, if preferred.
Happy Mornings is one of our best herbal teas safe for pregnancy because it's not only helpful in curbing the queasy tummy—it also has a nice, invigorating and soothing flavor that a lot of Mamas love!
For a stronger brew, steep longer. Note that a longer steep may result in bitterness (but hey, maybe that's the way you like it!).
Did you know that "morning sickness" in pregnant women can strike any time of day? But drinking tea for pregnancy nausea can help, so brew a large pitcher of our herbal tea for morning sickness to take with you on the run!
For best results, drink up to 3-4 times a day.

Note: There are certain types of teas you can drink safely during pregnancy (like our Happy Mornings tea for morning sickness), but if you're still concerned about your early pregnancy intake, you can always consult your doctor before using any pregnancy safe product.
Pregnancy Safe Ingredients
Organic Ginger Root

Highly renowned for relieving nausea, upset stomach, motion sickness, loss of appetite and even pain relief, this root has been a treasured medicine for centuries. Considered a powerful anti-inflammatory herb. Ginger teas for morning sickness are loaded with antioxidants. 

Organic Spearmint Leaf

Popular herb that helps ease inflammation, stomach distress, and curb nausea and vomiting. Soothing menthol relaxes the body and primes it for rest and relaxation. These properties make this herb excellent for morning sickness relief. This herb contains vitamins and minerals and has excellent antioxidant activity. 

Organic Orange Peel

Flavorful and aromatic herb packed with vitamin C and also rich in phytochemicals and antioxidants (flavonoids) that have many great health benefits. Helps relieve inflammation, nausea, bloating and upset tummies, while boosting appetite. 

Organic Chamomile

Gentle herb known to soothe irritation when applied topically. Renowned for its calming and anti-inflammatory properties, the daisy-like plant may help heal minor wounds. Chamomile may also help relieve gastric upsets and may help in promoting relaxation.
Full Ingredients:
Ginger Root*, Spearmint Leaf*,  Red Raspberry Leaf*, Orange Peel*, Chamomile Flower*, Peppermint Leaf*,  Lemon Balm Leaf*
*Certified Organic Ingredients
- Approved ingredient list for Happy Mornings tea for pregnancy nausea - 
Reviews
Customer Reviews
Write a Review
Ask a Question
Filter Reviews:
pregnancy
anything
woman
company
morning sickness
fridge
godsend
nausea
batch
niece
03/29/2020
Anonymous
United States
Great tea!
Great tea! My daughter loves it! Has helped her with the morning sickness. She loves the tastes!
02/21/2020
EJ j.
United States
Stopped my Morning sickness
This tea is amazing! It helped stop my nausea immediately.
12/30/2019
Sally L.
United States
Great
Bought this for my niece who was having sickness every morning and she told me it worked great! And tasted great!
Can't Live Without this Tea! Helped Me Immediately!
This amazing herbal tea for nausea was a godsend! My mom told me about this company and I was honestly skeptical but willing to try ANYTHING because my morning sickness during pregnancy was so awful. This tea helped me right away. I now make a batch and keep it in the fridge. I highly recommend this tea for any sick pregnant woman!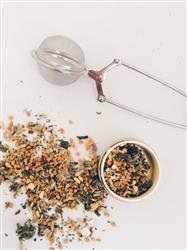 02/28/2019
The Spoiled Mama
Penelope- Thank you for your review! I know exactly how you feel and how much pregnancy nausea can really affect your days (and nights)! So glad to hear that you are making batches of it... that really can be a time saver too! Hopefully, your nausea passes soon and you won't need to be brewing batches. If there is anything we can do to help spoil you during your pregnancy -please let me know! - Tamara J, founder & mama of 2
BEST morning sickness tea EVER!
I was searching online for herbal teas safe for pregnancy and found Happy Mornings. I'm so glad it is made just for pregnant women. I have tried red raspberry leaf tea & ginger tea but nothing worked like this tea for pregnancy nausea. I will make this my go-to tea this fall.